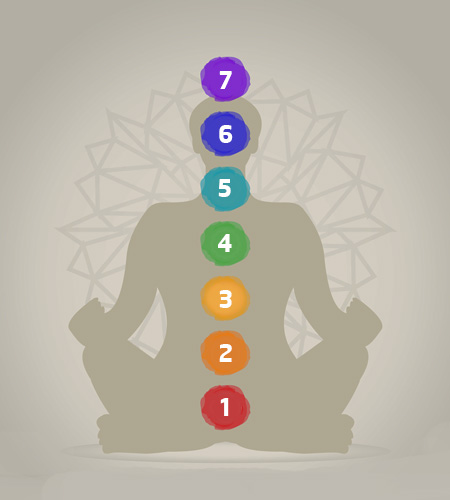 Energy, chakras, nadis, how does it work ?
In Yoga the energy called "prana" is the electricity contained in the air. Prana permeates all that is alive: the mammals absorb it while breathing, the plants transform it by photosynthesis. Prana circulates in our body through a network of 72,000 channels called "nadis". They start in tree form from our central sushumna column, and go far beyond the limits of the physical body. Two main channels, "ida" and "pingala", intersect spirally along sushumna.
When these nadis cross, they produce a concentration of energy, like a crossroad, which is called "chakra" ("wheel"). The chakras receive energy, concentrate and diffuse it, like small factories of creation, transformation and distribution! There are dozens of those nadis, but there are 7 main that correspond to the 7 main glands of the endocrine system. In traditional Indian imagery, the chakra is represented by a lotus flower. The further up the column, the more petals the flower has. Each chakra has its characteristics and corresponds to a specific color, element as well as specific physical and emotional functions.
Each person has certain nadis and chakras more or less developed and strong, which creates different personalities. Since yoga invites you to take control of your life through some exercises, you will be able to play with your structure to become more patient, less jealous or more creative for example !The influence of chakras on the health of the physical body is explained by the fact that energy vibrates at a higher frequency than substance.Circulatory disorders in nadis, often due to psychological disorders, result in disorders of circulation in the physical body, leading to diseases.These disorders can create either the narrowing or enlargement of the chakras or the slowing or increase of their speed of rotation, with a decrease of activity of the organs. All of that working as source of physical and emotional imbalances.